Combining Apartments Can Solve Your Spatial Shortcomings in Manhattan & Other NY Neighborhoods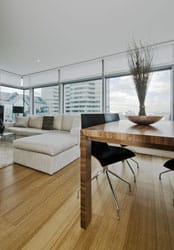 Tired of living in tight quarters? Combining apartments might be a viable solution if you've outgrown your Manhattan apartment but the prospect of moving makes you cringe. By merging your space with a vacant apartment adjacent to yours, you'll gain valuable square footage that can be used to create a home office, gym, master suite, or to simply enjoy a little more elbow room. However, the process of combining two apartments in New York entails more than knocking down a few walls, so it's crucial to partner with a reputable contractor with plenty of experience completing large-scale home improvement projects. For New York City residents, that company is Knockout Renovation.
Knockout Renovation streamlines the often-complicated process of combining apartments by implementing a six-step procedure that takes the burden of gathering piles of paperwork and making tricky decisions off you, the client. Our experienced team of project managers, designers, and contractors handles everything – from permits to post-renovation clean up – so you don't have to. As our client in Manhattan, you can expect us to:
Collect necessary approvals from your building management and/or the NYC Department of Buildings
Determine how to best configure your newly acquired space in accordance with building codes
Create and implement a design plan that addresses your tastes, needs, and special requests
Help you select the right flooring, cabinets, lighting, paint colors, countertops, etc.
Coordinate construction times and closely oversee your project through completion
And more
Furthermore, when you choose Knockout Renovation, you'll team with true industry professionals who possess decades of remodeling experience using only the finest materials and products. Whether your project involves combining apartments, overhauling an outdated kitchen, or both, you'll experience the expert craftsmanship that has allowed us to satisfy even the most particular area residents since 1992.
If you're considering combining apartments in Manhattan or a nearby NY neighborhood, such as the Upper East Side or Murray Hill, contact Knockout Renovation. We'll gladly stop by for an in-home consultation.