Here at Knockout Renovation, we have been making a conscious effort to share our client feedback to help our potential clients feel confident that we are the best choice for all in one design, build and renovation firm.
To help promote our business – as we have been around since 1992, it is obvious that we have great results – we want to share our client feedback so here is a quick snippet from our most recent survey feedback.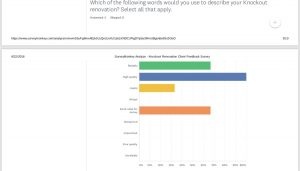 We look forward to working with you! Our firm has been in business since 1992 and we have managed and excelled at various projects, see more in our online portfolio https://www.knockoutrenovation.com/portfolio/ and just some of our client testimonials https://www.knockoutrenovation.com/about/testimonials.php.
Make sure you consider our company for your project.Please consider following us on Instagram @knockoutrenovation and Twitter @KnockoutNYC or check out our homepage at www.knockoutrenovation.com – we make renovations easy.