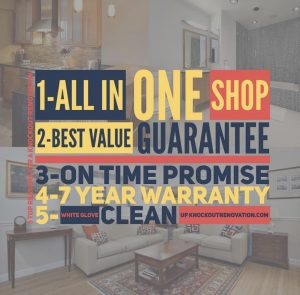 PRODUCT PURCHASING AND ITS KEY ROLE IN A SUCCESSFUL RENOVATION (GOOD LABOR AND ORGANIZATION IS ONLY PART OF THE PUZZLE)
Getting the right products is key to a good-looking, well-functioning, long-lasting home. Having them onsite on time is crucial to meeting a schedule for completing a renovation because every product gets installed in a particular sequence and if it's not there when needed or it's the wrong product, comes damaged, mislabeled or incomplete, it holds up the next steps of a renovation.
WHY NOT GET MY OWN PRODUCTS?
There are MANY things to know/learn about the various products available for inclusion in your home and new products come onto the market often. When homeowners order items on their own, it can lead to substantial delays due to product defects, incorrect, damaged and back ordered deliveries. See some actual homeowner experiences below.
When you work with a design build that also orders the products, they often work with manufacturers and distributors with whom they've developed good working relationships. Knowing their product offerings, lead times and ordering nuances can be advantageous in getting the right products onsite before they are due to be installed.
That combined with the volume they purchase through their supply chain may promote better service, faster delivery and replacements in the event of damages, mistaken or mislabeled orders, etc. The result is that it may keep a project from being substantially delayed and thereby avoid major cost increases.
DESIGN, PRODUCTS AND REMODELING FIRMS
Some remodelers also provide a warranty for the products they sell that may go beyond the manufacturers warranties. Knockout Renovation Svcs., Inc., based in New York, gives clients a 7 year products and labor warranty that only excludes kitchen appliances. Keith Steier, principal of Knockout, which has been in business for over 25 years says "we provide a concierge remodeling service in which we design it, shop with clients and advise them on the best products for their needs and once they choose their products, they're done, since we order have it delivered, install and then have the home or apartment cleaned spotlessly." He goes on to say " We back it all up with our 7 year products and labor warranty because we know we installed quality products and the warranty servicing reminds clients of the value we provided so that they keep recommending us years later when we come to fix the miter seam, dripping faucet or not so soft closing drawer."
The Big Box stores and some websites sell certain products at discounted prices which can be lower grade products. Kohler and Delta are just two of the manufacturers that produce different quality levels of the same model (and model number) products. Box stores and websites often sell versions with cheaper internal parts so homeowners that think they are saving may end up spending more on repairs down the road. Another potential problem is that when you order tile from a discount site, you may be getting mixtures from different lots or damaged tiles. Returning those tiles to generictile.com for example may be problematic and the return cost, based on the weight may be exorbitant.
DELAYS DELAYS DELAYS
There are more reasons why in an honest effort to save, well-meaning consumers can delay their renovations and end up spending extra. For example, some websites shut down entirely, have unhelpful return policies, are hard to contact (particularly by phone) and sell limited quantities for a limited time (closeout) so you may not be able to get more of what you need if you run short. The turnaround for replacements can be long. It may be difficult to get help with issues that arise.
This often leads to:
1. Delayed projects-waiting for product issues to be resolved
2. Less than stellar results in terms of design and functionality of interiors including kitchens and bathrooms
3. Credit card fraud in purchasing from non-vetted websites
Below is a sampling of actual experiences consumers had in making their own purchases:
1. A homeowner purchased their own tile and the tile began changing color after installation because the supplier didn't let the buyer know that the particular tiles were porous and absorbed water with every shower.
2. A homeowner purchased their own lower cost pre-finished wood floors. The floors damaged easily and had other issues like a variation in the joints which can be felt when walking on it.
3. A homeowner purchased their own refrigerator which arrived cracked. It took two weeks and several hours on the phone to get replaced (for a savings of $55 vs. our price)
4. A homeowner purchased their own custom gold plated faucets which later peeled.
5. A homeowner purchased the wrong type of built-in-microwave which delayed their project for 6 days.
6. A homeowner purchased their own marble tile from a website. The tile didn't match and looked like it came from three different sources. Also, there were many damaged and imperfect tiles in the batch that couldn't be used and returning them would have been expensive and time-consuming.
WRAP UP
You may save money in ordering your own products but keep in mind that it will involve a lot of time and research. There are often more things to order for a renovation (and variables to consider) than people realize up front. The savings may turn to frustration if it derails your renovation schedule and you have to resolve order issues on your own. A reputable all in one renovation service may mark up the products you buy through them but consider the aforementioned issues that can offset or eliminate any "savings".
We look forward to working with you! Our firm has been in business since 1992 and we have managed and excelled at various projects, see more in our online portfolio https://www.knockoutrenovation.com/portfolio/ and just some of our client testimonials https://www.knockoutrenovation.com/about/testimonials.php.
Make sure you consider our company for your project.Please consider following us on Instagram @knockoutrenovation and Twitter @KnockoutNYC or check out our homepage at www.knockoutrenovation.com – we make renovations easy.